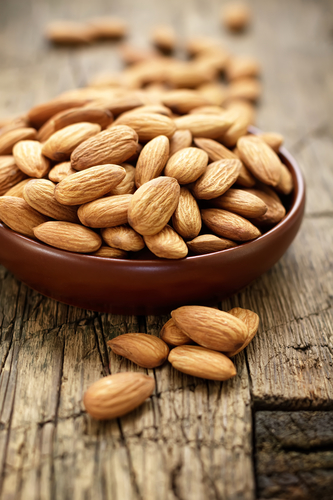 5 Ways to Enjoy Almonds
There are so many ways to get your daily serving of almonds as these versatile nuts can be made into a salad, eaten whole as a snack, or even blended into a spread or beverage. Almonds are among the healthiest of tree nuts. Just a handful of nutrient-rich almonds a day helps promote heart health and prevent weight gain, and it may even help fight diseases like diabetes and Alzheimer's.
Almonds are rich in vitamin E, calcium, magnesium and potassium, and a significant source of protein and fiber. One 23-almond serving packs 13 grams of healthy unsaturated fats, and just 160 calories! Here are five of our favorite recipes to try.
Almond butter is a great healthy alternative to peanut butter. All you need is almonds and a food processor, and you'll have a creamy spread to eat with toast and waffles, or spoon onto apple slices for a midday snack.
Homemade almond butter by Detoxinista
Almond milk is an excellent dairy alternative for vegans and those who are lactose-intolerant. As an added bonus, almond milk has a delicious mild nutty flavour. Try this recipe which gives the almond milk an extra kick with vanilla and cinnamon.
Vanilla-cinnamon almond milk by oh she glows
Raw almonds are delicious on their own, but this spiced almond recipe will blow your mind. This recipe turns ordinary almonds into irresistible morsels that will be the hit at any cocktail party.
Spiced almonds by the Food Network
Need a simple gift idea for Mother's Day? These chocolate almond hearts make the perfect present for any nut lover. In just twenty minutes, you'll have a box full of heart-shaped almond treats to impress Mum!
Chocolate almond hearts by Southern Living
Slivered almonds add just the right amount of crunch to any salad, while giving you an added protein boost to keep you feeling full longer. Try this delectable strawberry spinach salad recipe that has just six simple ingredients.
Strawberry spinach salad by Southern Living
Written by:
kenneth verzdesign