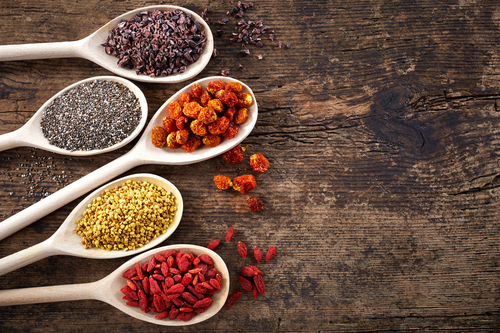 Why We Love Superfoods
Superfoods like blueberries, salmon, kale and quinoa have been more popular than ever, thanks to the great nutritional value and health benefits they promise. Whenever you feel like opening a bag of potato chips instead of having a handful of almonds as a snack, remember these wonderful benefits and you might just change your mind.
Superfoods help your body fight free radicals. Superfoods like berries are rich in antioxidants, which destroy the free radicals that can damage the cells in your body. This protection improves your health and reduces your risk of disease.
Superfoods can strengthen your immune system. The nutrients and phytochemicals present in many superfoods keep your immune system strong so you're less likely to fall sick.
Superfoods help you maintain a healthy weight. Superfoods like oats which are high in fiber and low in calories allow you to enjoy more of them without adding many extra calories. Others like almonds are rich in protein, fiber, and good fats that keep hunger at bay.
Superfoods may help reduce the risk of cancer. Some studies have shown that the nutrients, fiber, good fats, and phytochemicals found in certain superfoods like berries, walnuts and garlic can lower the risk of several types of cancer.
Superfoods can keep your heart healthy. Those same nutrients, fiber, good fats, and phytochemicals also protect your heart by reducing inflammation and keeping blood vessels healthy.
Superfoods help maintain your youthful complexion. The antioxidants in superfoods reduce damage to your skin, and many foods are rich in vitamin C that keeps connective tissue strong. This combination leads to beautiful, healthy skin.
Written by:
kenneth verzdesign